2023 Annual Meeting and Luncheon
Event Date:
February 18, 2023
Event Location:
Trinity United Methodist Church - Friendship Hall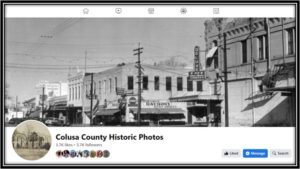 Through historic Colusa County images, Michael and Julie Garofalo will give a tour of the Colusa County Historic Photos [Facebook page] and the research that is used to create such a page. The collecting and storage of photos on the computer and "in the cloud" will be introduced and discussed. The images will be presented on a big screen for all to see.
~ Michael Garofalo is the creator and researcher of the Colusa County Historic Photos Facebook page. He has been curating these historical images on social media since 2015.
~ Julie Garofalo is a Water Engineer in Sacramento, and Mayor Pro Tem for the City of Colusa.
They are both volunteers creating historical exhibits for the annual Colusa Founders Day Celebration held in June.
The Director's meeting will begin at 10:00 am with the luncheon beginning at noon.
Your photos of Colusa County can be scanned and added to the historical records. Bring the photos with descriptions and they will be scanned, digitally saved, and returned. A flash drive with your photos may be purchased for $5.00 at the meeting.
Register Now: